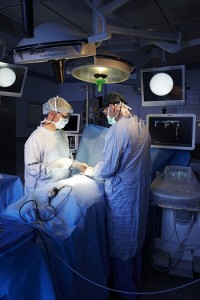 Hypospadias (hi-poe-SPAY-dee-us) is a birth defect of the penis.  The urethral opening, the hole where the urine comes out, is not in the normal position.  Instead of the tip, it is in the undersurface of the penis.  Hypospadias may be mild, moderate, or severe depending on how far back the opening is. 
Signs and symptoms of hypospadias may include:
• Opening of the urethra at a location other than the tip of the penis
• Downward curve of the penis (chordee)
• Hooded appearance of the penis 
• Abnormal spraying during urination
Fortunately, surgery can correct the problem.  These operations are best done between 6 and 18 months of age.  The repair is usually performed in one surgery.  However, if the Hypospadias is severe, it may be necessary to have more than one surgery. 
The physicians of Pediatric Surgical Associates possess the knowledge, experience and skills necessary to evaluate and correct the condition of Hypospadias. 
If you have any questions or concerns, please call our office to schedule an appointment.  We may be reached at 612-813-8000.