A Doctor's Tools by Kenny DeSanto: ages 4 and older.
Identifies common doctor's tools, e.g. stethoscope, blood pressure cuff, thermometer; describes how they are used and what they feel like.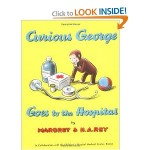 * Curious George Goes to the Hospital by Margaret & H.A. Rey: ages 3 to 8.
George swallows a puzzle piece and has to be hospitalized to have it removed. Kids love Curious George and his many adventures. This story is about what he encounters at the hospital.
Buy it

Emergency Room, An ABC Tour by Julie Steedman: ages 4 and older.
Nice photographs of equipment and personnel; although the focus is on the Emergency Room, many of the things shown are encountered during hospitalization. Good basic information.
Buy it
The Emergency Room by Anne & Harlow Rockwell: ages 4 and older.
Cartoon characters, concise, straight-forward script: a child has a sprained ankle, hospital equipment is explained.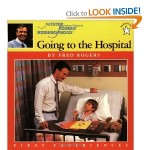 Going to the Hospital by Fred Rogers: ages 5 and older with a note to parents.
Step by step experience: before going, arriving, equipment. Very well done.
Buy it
A Hospital Story: An Open Family Book For Parents and Children Together by Sara Bonnett Stein: ages 4 and older. Deals with feelings and fears, and encourages questions from the child so the parent can correct misconceptions. Good information text for parents. Separate text for the child.

The Hospital Book by James Howe: ages 6 and older.
Very thorough text explanation, complete pictures of the hospital, personnel, equipment, procedures and surgery. Probably too much information for the very young child but good basic information for parents and older children. Also discusses feelings. Many of the pictures are suitable for the young child.
Buy it
* The Hospital Scares Me by Paula Z. Hogan & Kirk Hogan, MD: ages 4-5.
Multi-racial drawings, story of a hospital experience: deals with fears, anxieties and concerns.
Buy it
It Can't Hurt Forever by Marilyn Singer: ages 10 and older.
An 11 year old girl's experiences during hospitalization for a heart catheterization procedure and PDA surgery. She encounters some pleasant and some not so pleasant staff members and fellow patients. The story deals with her unspoken thoughts, fears, concerns, questions about dying. She even considers refusing to have the operation. Good example of the camaraderie that often develops among patients during a lengthy stay.
Buy it
Jeff's Hospital Book by Harriet Langsam Sobol: ages 4 and older.
Hospital stay to correct strabismus (crossed eyes): sensitive pictures, feelings realistically portrayed, coping techniques mentioned.
Let's Find Out About the Hospital by Eleanor Kay, RN: ages 3 and older.
Somewhat outdated (nurses' clothing), doesn't say anything about parents being able to stay overnight.
Madeline by Ludwig Bemelmons: ages 4 and older.
Madeline has an emergency appendectomy: not instructional, just a fun story.
Some Busy Hospital by Seymour Reit: ages 4 and older.
Depicted are cartoon character people and the places they work in all areas of the hospital. Medical staff and procedures, diagnostic tests and equipment, kitchen, laundry areas and the people who work there are shown. Instructional and fun. Good overall view of the hospital and what it takes to keep it functioning.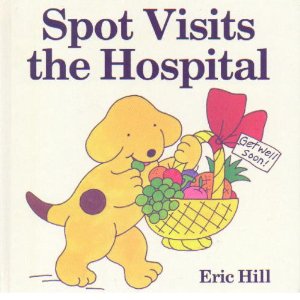 * Spot Visits the Hospital by Eric Hill: ages 3 and older.
Spot's monkey friend Steve has a broken leg. Spot and other animal friends visit him in the hospital. Nothing medical is discussed. All characters are animals. OK, if your child is familiar with and likes Spot stories.
Buy it
Things to Know Before You Go to the Hospital by Lisa Ann Marsoli: ages 8 and older.
For the child who wants information. Drawings and photos, very complete information, some dated information, e.g. the need to rent a TV. Tests, x-rays, surgery pictured and discussed.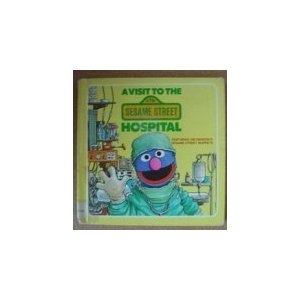 * A Visit to the Sesame Street Hospital by Deborah Hautzig: ages 5 and younger.
A note to parents. Good illustrations. Grover needs to have his tonsils removed. He goes to see the doctor at his office, asks questions. Grover, his mom, Bert and Ernie visit the hospital, people are drawn but lifelike.
Buy it
When I See My Doctor… by Susan Kuklin: ages 3 and older.
Caucasian mom, Asian child. Nice photos. Pictures explain equipment used for medical exam. Sensitive, friendly interaction between patient and doctor and between patient and nurse.