Pediatric Surgical Associates is proud to announce that we are now offering certain visit types  via telemedicine, saving you valuable time and costs associated with traveling long distances for a medical appointment.
What is telemedicine?
Telemedicine is a medical appointment performed via private & secure videoconference technology allowing for real-time, interactive communication between a patient and a physician without needing to be in the same physical location.
What are the advantages of telemedicine?
A telemedicine appointment eliminates the need to travel to the Twin Cities for simple post-op visits; saving time, money and other inconveniences associated with traveling. Your appointment will be performed with the same privacy, quality of care, and level of personal interaction as a traditional office visit.
Where do we offer telemedicine?
We currently offer telemedicine appointments for patients willing to be seen at St. Cloud's CentraCare Health Plaza- benefiting residents of central, western, and northwestern Minnesota.
Women and Children's Clinic
CentraCare Health Plaza
1900 CentraCare Circle
St. Cloud, MN 56303
More locations are anticipated in the future.
Which appointment types are offered via telemedicine?
The following post-operative appointment types can currently be seen via telemedicine:
Follow-up Patients:
Pyeloplasty/UPJ
Stones/ESWL
VUR/Ureteral Reimplantation
Cystoscopy
Meatotomy
Neurogenic bladder (if no wound/stoma concern)
Hydronephrosis
New Patients:
What is the process when arriving for a telemedicine appointment?
No extra effort is required on the patient side, as you and your child will arrive at CentraCare in St. Cloud as if it were a regular in-office appointment. Staff will guide you through the check-in process and once roomed will initiate the audio/video software to connect you with the physician and begin the appointment. Upon completion of the appointment you will be escorted out by staff and asked to complete a telemedicine appointment satisfaction survey.
About the physician:
Your child will be seen by Dr. Katie Willinghanz-Lawson, Pediatric Urologist.
About Dr. Willinghanz-Lawson, MD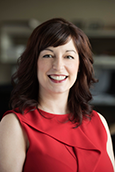 Request an appointment today!
Check back for updates as we plan to expand our telemedicine program throughout 2017 to better serve our patients.